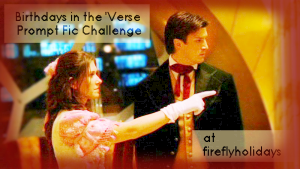 We've had lots of excellent prompts left for the Birthdays in the 'Verse Fic Challenge. Hopefully there's something here that you'd like to write for!

Fics must be at least 100 words, you can claim as many prompts as you think you can write, multiple claims of the same prompt allowed. Just leave a comment to this post with the prompts you would like to claim.

Claiming of Prompts is open until September 2nd. Fics will be due by September 30th and should be posted directly, or at least linked to, by a post in the
fireflyholidays comm.

PLEASE HELP ADVERTISE THIS FICATHON!



Pairing specific prompts:

Badger/Jayne - Sandwiches & Hooch

Jayne/Kaylee
Pink Shirts and Guilty Smiles
I hate shopping
Strawberries & Gunpowder
Did you steal them flowers from off a grave?
Dirty socks aren't the way to a woman's heart
You're so gorram romantic
It's my birthday - can I touch your guns?
Kin
Getting a cold on his/her birthday
Birthdays aren't all they're cracked up to be.

Mal/Jayne
Yes, I bought that for you. Too bad it fits me instead
It's your birthday - bring as many grenades as you want
Give me an inch, and I'll take ten miles
Jayne takes Mal out drinking to celebrate Mal's birthday and certain boundaries are crossed.

Simon/Mal
Simon's second birthday on Serenity; will it be better than last year's?
Mal discovers someone has left an extraordinary birthday present in his bunk: Simon -- gagged, hog-tied and buck naked (except for a blue ribbon!)

Simon/Jayne
Way better than my last birthday.

Jayne/Inara
A Companion's birthday gift
Was this *really* intended for me?
No time for celebrating.

Mal/Inara
Since they're getting tired of all the waffling and snarking between Mal and Inara over whether or not they'll ever actually have sex, the crew chips in to buy Mal an appointment with Inara for his birthday. Will she accept the engagement?

Jayne/Zoe
Jayne gives Zoe a birthday gift when Wash isn't there to (post BDM of course)

Saffron/Jayne - birthday gift

Individual character prompts:

Badger - hat
Mal's first birthday away from home
Mal - You bought me a what?
Jayne spends his birthday in jail (alone or with someone.)
Jayne - not so subtle birthday hints
A package arrives from Jayne's mom on the occasion of his birthday.
Jayne - Can I get one of them girls that jumps outta a cake?
Jayne's "How-to" Guide to throwing birthday parties (and River's response "Birthday's for Dummies")
River is the only one who knows when Book's birthday is - what does she do?
River - I'm making my own cake (and you have to eat it).
River - wants a boy for her birthday
Book, River - Loreal - Because I'm worth it
Wash - wrap me up in a bow, I'm yours
Wash - Can I have a pinata?
Book - Another year, another pain.
Book - a peaceful birthday at the abbey--with Jayne
Inara - It is possible for a lady to have too many perfume bottles.
Inara - ballet slippers
Zoe - bubbles and a sponge bath
Zoe - If you celebrate this day, I will hurt you.
Simon - When I turned twenty-one, they arranged a Companion for me.
Simon - what he really wants for his birthday
Kaylee - mama'd be real proud that her little girl spent her 25th birthday in jail
Kaylee - How could you forget my birthday?
Saffron - which birthday? which name?
Crow - best birthday ever


Word/phrase prompts

glorification
gathering
bash
prestigiator (juggler)
memories
It's my party and I'll cry if I want to
Birthday suit
Happy birthday, Mr President (seductive singing of 'Happy Birthday' in whatever pairing)
Murphy's Law
Just gotta have faith
Explosion
Insincere
Conspire
Grouchy
Regret
Nostalgia
A birthday that gives Simon's 'Out of Gas' one a run for its money as the all time worst.
"I'm not in love, it's just my birthday."